A nationwide company which collects waste cooking oil and fats from across the UK has revolutionised its operations with the purchase of five cargo lifts.
Bensons Products Ltd, based in Widnes Cheshire, commissioned the lifts from leading manufacturer of lifts, ramps and vehicular access products Vapor Ricon and has installed the initial purchase across its fleet of vehicles which operate in the North of England.
"We work with restaurants, food establishments and manufacturers to collect, recycle and responsibly dispose of their waste cooking oils and fats," said Neil Wolcroft. "Our 120 litre barrels are cumbersome to collect and the installation of lifts which are easy to operate, speedy and smooth has revolutionised the way in which we work. It has delivered some measurable savings for us in terms of cost and time."
The Vapor Ricon Cargo Lift has a non-intrusive space saving footprint with easy to operate electro hydro controls and an automatic outer barrier to ensure product and user safety. With a 500kg lifting weight capacity the lift is easily able to cope with the requirements of Bensons Products and can easily be transferred to other companies that require similar lifting requirements and capabilities.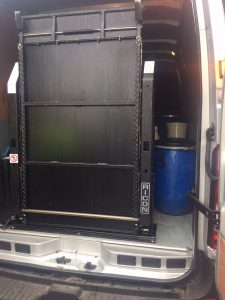 "We supply lifts to a wide range of industry sectors and our reputation places us as the preferred supplier to many reputable companies with global operations," said Michael Dickinson sales manager Vapor Ricon. "We shall look forward to a long relationship with the team at Bensons Products and supporting them as they upgrade and replace other lifts within their fleet."
The Cargo Lift also has the added benefit of a built in manual back-up system in case of power loss and a five year limited warranty.
Further information about Vapor Ricon's full range of products can be found by visiting www.vaporricon.co.uk